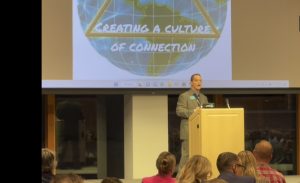 For over 40 years, The Next Step and Bryan Campbell have inspired thousands of people all over the United States. Bryan helps people tap into the power from within by using breakthrough educational techniques and motivational speaking, so they may discover their ultimate effectiveness.
A culture of connection is not hard, humans are hardwired to connect with one another. In this 20 minute speech we'll explore how we can bring more of ourselves into our leadership roles so that we will not become our position, but rather, how we work in our position is a reflection of who we truly are. We want to continue to build a culture of connection so that you can build relationships with leaders all across the world that encourage growth and community.
After you purchase the product, we will email you a link to the YouTube Video. The link will be for your school/organization's use only.