Overcome Obstacles with Intention
As a junior in high school, Bryan was just your average high school student until he broke his neck and was told he may never take his next step. He walked out of the hospital 30 days later and decided to inspire, impact and empower people on how to tap into their ultimate power from within. A year later he starting his speaking career with students, spinal cord injury victims and companies. He delivers a message that does not come from the victim mentality but rather choosing to live with intention.
As a Youth Inspirational Speaker, Bryan takes Staff and Students on a Journey Through his Own Life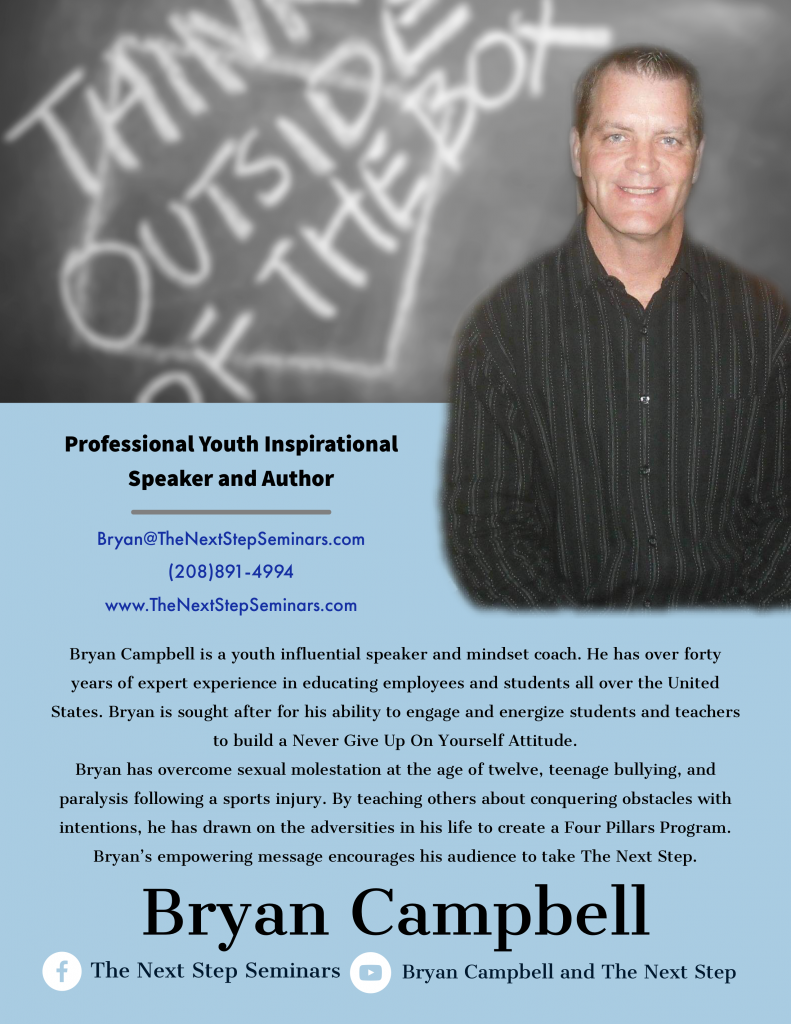 By all means he was a normal, average kid until he was molested at the age 11.  By the age of 13, he had serious problems with drugs. At the age of 17, Bryan broke his neck in football and was told he would never walk again. Bryan started researching and studying lessons from leaders all over the world in order to discover how they overcame insurmountable odds (or obstacles). While that would give any speaker enough to share and inspire staff and students, additionally, Bryan has been through four neck surgeries to control paralysis, six shoulder surgeries, eight knee surgeries and has survived a broken back twice.
Bryan's purpose is to help staff and students tap into their ultimate power. He leads groups to discover that while inspiration can come from people, places and things, motivation can only come from within. He engages the audience with a message that teaches staff and students to define their Core Values (their "I AM's") and to stop buying into limiting beliefs. He encourages all listeners to tap into their core values, and discover what results and behavior this attitude will reveal.
His message is entertaining, empowering and to the heart. Bryan shows that the human spirit is capable of more than we ever thought was possible.
Staff and Students Learn
Leadership development
Personal development
Inspiration and Motivation
School culture
Commitment, Resilience, Attitude, Perseverance